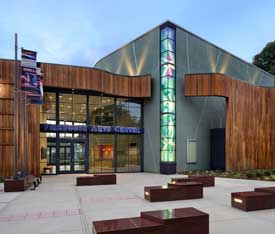 On Monday, Year 4 visited Burnley Youth Theatre on what was a very cold and snowy day!
The children linked up with Deepdale Community Primary School and developed their speaking and listening skills through drama. The children were a credit to the school, and they soon developed their confidence working alongside other children that they didn't know.
These are just a few of the comments that the children made when we arrived back at school.
It was very exciting because we met some new friends. Lennon
Charlie and Laura were very nice. Gabriel
We had fun because we got to play games and learn lots of drama skills. Kuba
It made me feel very joyful because I made a new friend. Maya
I met 3 new friends. Nadia
I felt happy because I met a new friend called Scarlet. Olivia
We hope that in the future we could link up with Deepdale Community Primary School again! :)