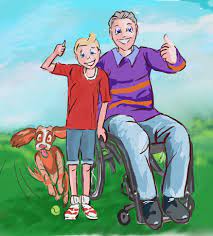 The Author, Grandad Wheels visited us at the end of January. We all enjoyed a fabulous day with the Author called Grandad Wheels.
Here's what some of our Year Six children think: Michael said, "Although Grandad Wheels is in a wheelchair he always tries to have fun with his grandson and his family – he gives them his time." Ezrine said, "I thought he was very resilient. He made me think that you should always try to be resilient. So even if you have a problem you can still be positive." Joseph said, "I thought that Grandad Wheels was really funny and I particularly enjoyed his very funny story about going to the shops."
The generosity of Holy Family Parents – You have raised £462 to support two charities that support disabled people. Thank you so much!